NY BURGER WEEK MAY 1-7, 2013
– 7 Days of delicious Burger events
To celebrate National Hamburger Month, Burger Conquest, The Food Film Festival & Burger GPS proudly bring you the 2nd Annual NY Burger Week, May 1-7, 2013.
Hashtag = #NYBW
Tweet @BurgerWeek & @BurgerConquest
From gourmet blends to off-menu specialities, to beer pairings, NY Burger Week will pay tribute to the world's greatest sandwich, the Hamburger. Each restaurateur and Chef will be preparing a unique event that pays tribute to the Burger in their own way.
THE CONQUEST
When 5 friends went out for a burger at Arthur's Steakhouse in Hoboken, NJ on Friday, October 16, 2008, none of them, especially me, envisioned a blog that would last this long, let alone launching and running consecutive Burger Weeks in NY was in the cards. But NYC, you love yourself some Burgers and that's why it's my duty to bring you the best of the best of them. I'm honored to have this role and I thank each and every one of you who participated in the most Burgerific celebration in a city that truly, truly appreciates a good time and a tasty Burger.
NY BURGER WEEK 2013 BY THE NUMBERS
Number of events: 8
Number of restaurants involved in events: 18
Total number of restaurants involved: 33
Number of breweries involved: 33
Amount of Burger Maker beef served: 450 pounds
Amount of Jarlsberg Cheese served: 82 pounds
Number of NY Burger Week MVPs: 1 – Might Mike Fox attended 5 of 7 events!
Amount of Burgers consumed personally: 28
Total Guests: 671
and for the biggest and most important number of them all, drum roll please …
Number of Burgers served:

2549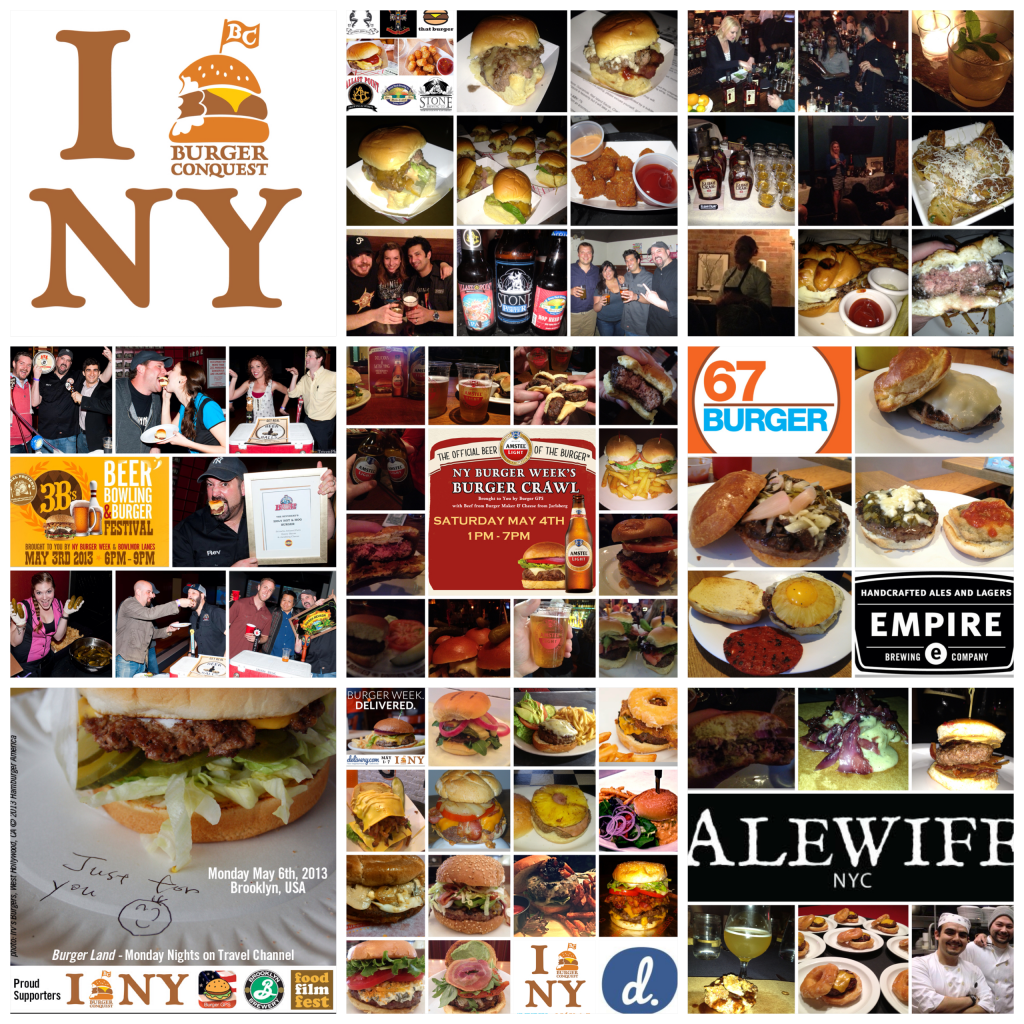 THE EVENTS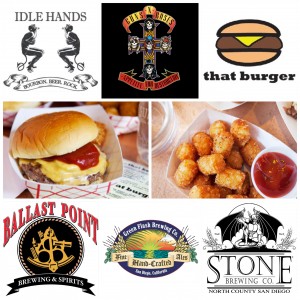 Guns N Roses "Appetite For Destruction" Burger & Beer Pairing Dinner at Idle Hands Bar with That Burger
Bourbon & Burger Dinner at Harding's NYC
Burger and Putts Dinner at Hudson Sport Cafe 303 with Boozy Burbs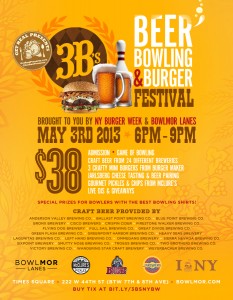 Get Real Presents The "3B's" – Beer, Bowling & Burger Festival at Bowlmor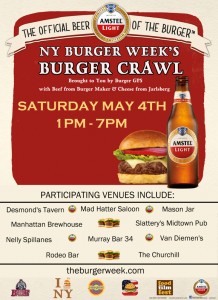 Amstel Light Presents the 2nd Annual NY Burger Crawl, NY Burger Week
-brought to you by Burger GPS with Beef from Burger Maker & Cheese from Jarlsberg–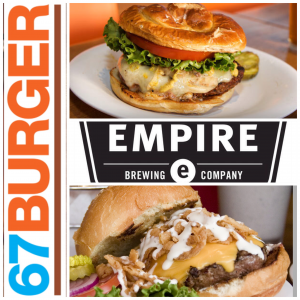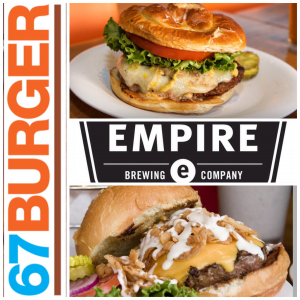 67 Burger Exclusive Off Menu Burger Bash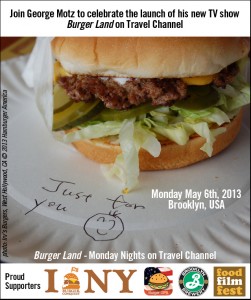 Private Party With Burger Land Travel Channel Host and Hamburger Expert George Motz, NY Burger Week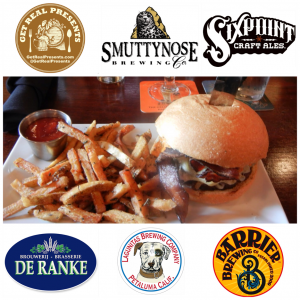 Get Real Presents The Beer Burger Conquest Dinner at the Alewife NYC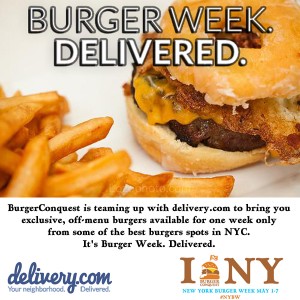 NY Burger Week Delivered – Off Menu Burgers All Week Only on delivery.com
UNTIL THE NEXT BURGER WEEK, BE BURGERY TO EACH OTHER!
*****
Sign up for the email newsletter, check out the Burger Week website and follow @BurgerConquest on Twitter for more details & event announcements.

About NY Burger Week
NY Burger Week is an annual delicious celebration of all things Burger in New York. It is an extension of the burger blog, BurgerConquest.com written by sales marketing strategist, David "Rev" Ciancio. Rev has written about more than 600 Burgers, been featured on 9 different TV shows and named an "Expert Burger Taster" by The Learning Channel.
About the Food Film Festival


The Food Film Festival sprang from the imagination of Festival Director George Motz, the documentary filmmaker behind the award-winning Hamburger America film and book, along with co-creator Harry Hawk, formerly of Schnack and Water Taxi Beach. Through documentaries, features and short films, the Festival showcases the best, and the most memorable, of the world's favorite foods. Along with a heaping helping of mouth-watering films, Motz, Hawk and company serve up the food that guests are watching on the screen for a multi-sensory, full-bodied experience.
About Burger GPS
BURGER GPS / Hamburger America



George Motz's Official State-by-State Guide to the most interesting burgers in the USA. Author / Filmmaker George Motz has eaten over 10,000 burgers in his life. Trust him and use this app to find your next great burger.