67 Burger
http://67burger.com
234 Flatbush Ave
Brooklyn, NY 11217
NY BURGER WEEK MAY 1-7, 2013
– 7 Days of delicious Burger events
To celebrate National Hamburger Month, Burger Conquest, The Food Film Festival & Burger GPS proudly bring you the 2nd Annual NY Burger Week, May 1-7, 2013.
Hashtag = #NYBW
Tweet @BurgerWeek & @BurgerConquest
From gourmet blends to off-menu specialities, to beer pairings, NY Burger Week will pay tribute to the world's greatest sandwich, the Hamburger. Each restaurateur and Chef will be preparing a unique event that pays tribute to the Burger in their own way.
THE CONQUEST
The Off-Menu Burger Bash is NY Burger Week's signature event and where it all started 3 years ago at Rub BBQ at the first off menu Burger Bash. The event was a huge success and the catalyst behind me creating NY Burger Week in 2012. The off-menu Burger Bash came back with a vengeance with Rub BBQ taking their 2nd shot at feeding the Burger-crazed mouthfuls of delicious and unique burgers. It was another tasty success. Unfortunately for the Burger obsessed like me, Rub BBQ closed it's doors forever at the end of 2012. My favorite Burger of all times ceased to exist, but the off menu Burger Bash had to live on.
Chef Jeffrey Maslanka is no joke. He and is partner in business Ed Tretter are sincerely passionate about Burgers and the restaurant biz. Eat yourself a Burg at 67 Burger or their other fresh fast food concept, Black Shack, and you'll taste their passion. I've eaten at both places many times and I've also had their creations cooked under pressure at the NY Food & Wine Burger Bash. Every time, the Burger is a real winner. With Rub BBQ now closed it was time to pass the torch of the off menu Burger Bash and I needed a Burger team that could execute. I knew Jeff and Ed would be the right team for the task.
NY BURGER WEEK EVENT
THE 67 BURGER EXCLUSIVE OFF-MENU BURGER BASH

$45 for 4 Off-Menu Burgers, Beer Tasting & French Fries for 2 people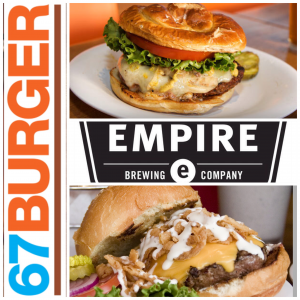 May 5, 2013
67 Burger
234 Flatbush Avenue
Brooklyn, NY 11217
12 – 2 pm
Price: $45.00 for 2 people
Ticket link: http://bit.ly/67NYBW

4 different Off-Menu Burger Creations from Chef Jeff Maslanka

2 draft beers from Empire Brewing Company with tasting from brewery rep

1 order of French Fries

**Each ticket is good for 2 people**
The Off-Menu Burger Bash is NY Burger Week's signature event and where it all started. We're extremely excited to be bringing this delicious event to 67 Burger in Park Slope. Chef Jeff promises to whip out some doosey Burgers including his famous "Pastrami Burger." Grab a bud & join us for what will be an awesome Burger party.
Wash it all down with a couple of delicious, Brooklyn made Beers from Empire Brewing Company. A representative from the brewery will be on hand to take you through a Beer tasting and answer any questions you have.
Empire White Aphro: A Belgianized version of our popular Aphrodisiac Ale. The honey, ginger, and lavender are still added as a spice addition. It is fermented with a traditional Belgian yeast strain, and wheat malt was added, giving it a Belgian white characteristic. 5.6% ABV
Empire Amber: A robust english-style beer, brewed with a proportion of caramel malt and aromatic hops from the pacific northwest. 5.5% ABV
Vote for your favorite Burger at the end of the meal and whichever Burger has the most votes will become the official 67 Burger for National Hamburger Month!!
THE BURGERS
The timing, execution and serving of the event was no small task and the team at 67 Burger nailed every aspect of the event. It took a crew of 4 people to hand prepare each Burger as well as 4 people on the floor to serve them. It was like watching a beautiful dance put on by a highly affective military unit.
Each Burger was served 1 for every 2 people and once it hit the table, it was up to us to effectively cut them in half to share. Thankfully I had the Burger slicing expertise of Mighty Mike Fox to rely upon.
THE Pastrami Burger
– Homemade Pastrami Spice crusted Burger with Sauerkraut & Deli Mustard on a Pretzel Bun
Chef Jeff says: "!!!"
Hippy Forager Burger
– Beef Patty topped with a melange of wild Mushrooms, Spring Onions, Truffled Tomato Sauce & Smoked Gouda Cheese Sauce
Chef Jeff says: "Finders Keepers!"
The Chili Relleno Burger
– Melty Jack Cheese, grilled Tomato Red Sauce, Poblano Chili dipped in a light Egg Batter and fried to a crisp!
Chef Jeff says: "Boom."
The Down Under Aussie Burger
– Fire roasted and Pickled Beet Root, Pineapple Rings charred on an open fire, Malaysian spicy Pork Jerky, French Fries & an sunny side up Egg
Chef Jeff says: "It's a hot mess!
THE WINNER
Every single Burger was absolutely delicious and the entire meal was a gastronomic adventure for the taste buds. Picking a favorite of the bunch proved to be difficult and truth be told, everyone who attended truly won in the end.
First Place: The Hippy Forager

Runner up: The 

Chili Relleno Burger
Thank you to the rest of my fellow off menu Burger Bashers. We got to enjoy some awesome, awesome Burgers brought to us by a team that was just as excited to serve us as we were to eat them. To Ed, Daphne, Jeff and the rest of the staff of 67 Burger, you not only took the off menu Burger Bash torch hand off expertly but you then ran it in for a gold medal. Outstanding service, amazing Food and tons of fun. Thank you so much. Making delicious Beer is an artform and representing it is no easy job either. Thank you to Mike, Olivia, Tim and the entire team at Empire Brewing. You set an example for the rest of the industry. McKenzie Mahoney from the mmmguide.com played a huge part in making this event happening and helping me to market it. You are rock star of the industry and I am always psyched as heck to work with you.
THE BURGER COUNTQUEST
627 Burgers
May 4, 2013 – 12:44 pm