Rub BBQ
http://www.rubbbq.net
208 West 23rd Street
New York, NY 10011
NY BURGER WEEK MAY 13-20, 2012
To celebrate National Hamburger Month, Burger Conquest proudly brings you NY BURGER WEEK! NY Burger Week is happening May 13-20, 2012 to coincide with American Craft Beer Week.
Burger Conquest has teamed up with Thrillist, the leading online Men's publication and urban guide to bring NY 7 awesome days of Burger & Craft Beer events. To purchase tickets and offers for NY Burger Week go to Thrillist Rewards. To see all events go to the official NY Burger Week website.
Hashtag = #NYBW
Tweet @BurgerWeek & @BurgerConquest
THE CONQUEST
I get asked all the time, "what is the best Burger you've ever eaten?" With 500 plus Burgers reviewed on this site, it shouldn't be a surprise to know this query is very popular in conversations with me. What should surprise you, is that I do have an answer and there is a best Burger I have ever eaten and it's at Rub BBQ in New York City.
Rub BBQ's Monday Night Secret Burger is something I can talk about endlessly. It's probably one of the most heralded, talked about and anticipated burgers in all the burgerverse and it's only available on Monday nights. Every Monday, beginning at 6 pm, Rub BBQ starts serving them but doesn't put them on the menu. You need to know to ask and while you're at it, there is one more thing you should know. There is always more than 1 burger.
Each week Rub offers up THE "Rub Burger" which is Burger Conquest fave but they also put forth a different specialty each week. Ever since this burger ritual began more than a year ago, Rub BBQ has NEVER repeated a special burger. While I would like to tell you i've eaten them all, I haven't but spend 10 minutes with owner Andrew Fischel and Chef Scott Smith and you'll feel like you missed out on 60-70 of the most important burgers ever made.
In 2011, I worked with them to put together an Off-Menu Burger Bash, that was one of the most awesome & filling Burger events of all times. The event sold out both seatings in about an hour. People who were lucky enough to get tickets, were treated to a menu that had 5 of Rub's Secret Monday Night Burgers along with some sides and some Boozy Milk Shakes. Well, what would Burger Conquest's NY BURGER WEEK without including an event at Burger Conquest? Let's not even discuss, instead let's talk about NY Burger Week's Grand Finale … One of the greatest New York Burger events EVER returns!
NY BURGER WEEK EVENT
THE RUB BBQ EXCLUSIVE OFF-MENU BURGER BASH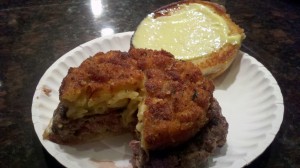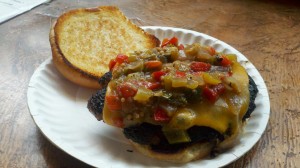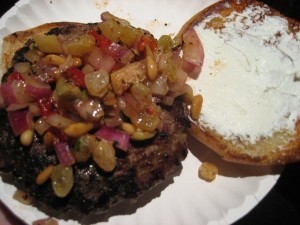 Rub BBQ
Ticket Link: http://www.brownpapertickets.com/event/247701
208 West 23rd Street
New York, NY 10011
Sunday May 20, 2012
12:00 – 2:00 pm
Price: $44.95
For our Second Annual Burger Bash Event, we are serving 4 off-the-menu Burgers from award winning barbeque-ists featuring:
The Mac-N-Cheese Burger: House Ground Burger topped with Deep Fried Mac N Cheese and Aioli
The Bacon Burger: House Ground Burger mixed with house made Bacon topped with Cheddar cheese and Pickled Red Onions
The Black and Blue Burger: House Ground Burger Blackened and topped with "Stinky" Blue Cheese
A North African Lamb Burger: House ground Beef and Lamb blend mixed with Moroccan Spices topped with a Pine Nut and Golden Raisin Relish
This flavor intensive feast includes:
Two Draft Craft Beers or Fountain Drinks (Soda, Tea or Lemonade)
Choice of 1 small order of Fries or Onion Strings
THE BURGERS
Rub's process for Burger making is nothing short of intense. They house grind their own Meat and other than the Buns, they prep everything in house. They can't just be whipped out or served quickly, they take time, hence the two hours it would take to eat my way through this epic Burger meal.
Rub BBQ started everyone with a choice of drinks including a selection from their craft beers on tap. While the first of the Burgers was hitting the flat iron, we had a choice of French Fries or Onion Rings. I went with the house cut whole Potato Fries, covered them up in a little vinegar and a "table mixed" BBQ / Ketchup.
Black and Blue Burger–  House Ground Burger coated in a Cajun Seasoning and then blackened & topped with a Valedon Spanish Blue Cheese and Remoulade. This was the juiciest, most perfectly executed Black and Blue Burger ever. The tastes happen in order of bite; first you taste the Blue Cheese, then the Cajun Spices and then the Beef. Chef Scott must be some kind of Wizard with his most impressive trick being able to make sure you can still taste the Beef in the middle of all the intense flavors surrounding it.
Fried Mac-N-Cheese Burger: House Ground Burger topped with home made Deep Fried Mac N Cheese and a Roasted Garlic Aioli on a Buttered Toasted Bun. Is there anything Rub BBQ can make that isn't perfect? Not even if they were trying. Again, another perfectly cooked Beef Patty and this time topped with something that could've been served as it's own dish! Mac n Cheese is awesome. When it's deep fried, which is totally unnecessary, it makes it even more amazing. The Garlic Aioli gives a nice tangy taste to each bite and along with the juiciness of the Meat, keep it from being dry.

9 out of 10 Ounces
North African Lamb Burger: A blended Patty made from a Beef & Lamb mixed with Moroccan La Kama Spices topped with a Pine Nut, Golden Raisin and preserved Lemon Relish and a Mint Yogurt Sauce. The amount of creativity, time and execution that went into this Burger were well worth it. The North African Lamb Burger is absolutely amazing. The Relish makes all the difference here in pulling together this array of unique flavors.
Cheddar Bacon Burger: House Ground Burger mixed with ground house made, tripled smoked Bacon topped with vintage English Cheddar cheese and a Whole Grain Mustard. At this point in the meal, there was no room left in my stomach. I was filled to the brim with tasty Burgerness. BUT THAT WOULDN'T STOP ME FROM EATING THIS BURGER! In fact, World War Z could erupt and I wouldn't make a move to evacuate NYC if this was sitting in front of me. In fact, this Burger is so fiercly packed with flavor that it might be used as a weapon to ward off the living dead. Did this need a Cheese as strong as the English Cheddar? No. Was it mandatory to add a robust Whole Grain Mustard? Not really. In fact, the Rub Burger Patty is so good that it doesn't need the Bacon. But you know what? It wouldn't be Rub BBQ without crossing the line of Burgery Greatness.
Truly one of the most delicious and awesome Burger events out there in the Burgerverse. It was an awesome and appropriate grand finale to NY Burger Week. Do not miss out on the 3rd Annual Off-Menu Burger Bash at Rub BBQ in 2013. Hopefully again, during NY Burger Week.
THE BURGER COUNTQUEST
534 Burgers
May 20, 2012 – 1:44 pm
The Rev Meter for Social Community
"The Rev Meter" is a social community meter for assessing how optimized a bar or restaurant is with social networking. By taking what he considers to be the 10 most important social networks and creating a point system, The Rev can accurately asses how well the business is using social networking as a tool. His goal here is to educate and assist great business to better effectively use these tools.
Rub BBQ scores a 10 on The Rev Meter!! They must've had some great help.

SCORING:
1 – 4 points:  You've missed the 5 basics and are less than optimized
5 points:       You've covered the basics, which is better than most but far from optimized.
6 – 9 points: You're doing better than most and on your way to becoming a well respected social community whiz.
10 points:     Congrats on a perfect score!