Harding's
http://www.hardingsnyc.com
32 E 21st St
New York, NY 10010
NY BURGER WEEK MAY 1-7, 2013
– 7 Days of delicious Burger events
To celebrate National Hamburger Month, Burger Conquest, The Food Film Festival & Burger GPS proudly bring you the 2nd Annual NY Burger Week, May 1-7, 2013.
Hashtag = #NYBW
Tweet @BurgerWeek & @BurgerConquest
From gourmet blends to off-menu specialities, to beer pairings, NY Burger Week will pay tribute to the world's greatest sandwich, the Hamburger. Each restaurateur and Chef will be preparing a unique event that pays tribute to the Burger in their own way.
THE CONQUEST
When I first tried Chef Ariel's Burger at Hardings, I thought "this was put together by someone who passionately cares about Burgers for people who passionately care about Burgers." That's a real quote, I wrote it. The custom blend of 80/20 lean to fat ratio mix of Chuck and Skirt Beef which she uses arrives into the restaurant and then Ariel grinds the Beef, mixing in a 30% ratio of Short Rib. To a Food fanatic's ears, that sounds pretty sexual and the taste of the Burger backs it up. When they asked me if they could be a part of NY Burger Week, I thought it was a perfect opportunity to share this tasty, tasty Burger with the Burgerverse.
NY BURGER WEEK EVENT
BOURBON & BURGER PAIRING DINNER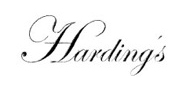 $35 for a private bourbon cocktail course, bourbon tasting,
house-made, hand-ground Burger & a paired bourbon cocktail
Brought to you by The Whiskey Roundtable


May 2, 2013
Harding's NYC
32 E 21st St
New York, NY 10010
6:00, 7:00 & 7:45 pm seatings

Price: $35.00
Ticket Link: http://bit.ly/HardNYBW

Cocktail making course

Private bourbon tasting and food pairing

Kitchen walk-thru

Private dinner with Burger and paired bourbon cocktail
This one is a doozy! First you'll be greeted by head bartender Trevor Schneider who will teach you how to make a bourbon smash with Larceny bourbon. Yes, you'll be drinking one of them while you ask any bourbon questions you have to a representative from the Larceny distillery.
Then you'll move into The Den, Harding's private whisky room, where you'll experience an intimate tasting lesson with Elijah Craigh bourbon. You'll be served a paired dish of Chef Ariel Fox's
crispy Yukon potato skins with shaved blue cheese.
From there you'll take a walk into Harding's kitchen where Chef Ariel Fox will explain how they make their burger with a custom blend of 80/20 lean to fat ratio mix of chuck and skirt beef that is then mixed with a 30% ratio of short rib.
The small group of you will then be seated at a community table on Harding's VIP balcony dining table where you'll devour said succulent Burger along with some skin-on rosemary frech fries with a paired bourbon cocktail.

Due to the intensity of this event, there is a very limited amount of tickets. Sleep on this one and you'll be sorry.

THE BURGER
I've reviewed the Harding's Burger before and worked with Harding's to custom create this experience, so there's no need to repeat myself or give a rating. But it was even a surprise to me, Chef Ariel recently switched the Meat supplier she uses to make changes to the Burger. The Burger is now made with Beef from Creekstone Farms from Kansas via Pat LaFrieda Meat Purveyors in NYC. Creekstone produces a premium quality Beef by slaughtering a very limited amount of cows. Their Cattle are never fed antibiotics, hormones, growth promoting drugs or artificial ingredients via a 100% Vegetarian diet. The farm uses only humane animal handling practices when raising said Cattle. This makes for an all natural and delicious tasting Beef product and with one bite of the Harding's Burger, you'll notice.
Thanks to everyone who attended and enjoyed a really fun night of food & drink education along with some delicious drinks and eats. None of this would be possible without Jessica from Heaven Hill & Whiskey Roundtable who played a big part in making it happen. Much love to everyone at Harding's who put on an awesome display of professionalism and hospitality. You are an amazing team with a fantastic restaurant.
The most important lesson learned at this event; "Hogs don't eat Cucumbers."
About The Whiskey Roundtable
The Whiskey Roundtable is a collective that will present topics about whiskey in a troubadour fashion.
THE BURGER COUNTQUEST
613 Burgers
May 2, 2013 – 8:20 pm