NY BURGER WEEK MAY 1-7, 2014
– 7 Days of delicious Burger events
To celebrate National Hamburger Month, Burger Conquest, Burger Maker & The Food Film Festival proudly bring you the 3rd Annual NY Burger Week, May 1-7, 2014.
The Burger Week is a 7-day celebration of trendsetting chefs and unique burgers with a series of daily events.
Hashtag = #BurgerWeek Tweet: @BurgerConquest
THE CONQUEST
I'm humbled. I can't believe that what started as a silly blogspot site between a couple friends has now turned into a 3rd Annual celebration of Burgers in NYC. New Yorkers like their Burgers. No, that doesn't do it justice. New Yorkers are seriously passionate about Burgers. This city is home to some of the hardest working, most innovative and passionate restauranteurs, Chefs and Burger fanatics. It was never my intention to become an events planner or promoter but what can I say? It's a honor to help unite them for one week so that we can all enjoy it together.  NY Burger Week is my love letter to the Big Apple and all the delicious Burgers inside of it.
NY BURGER WEEK 2014 BY THE NUMBERS
Number of events: 7
Number of restaurants involved in events: 28
Total number of restaurants involved: 57
Number of NY Burger Week MVPs: 3
     Kurt Y attended 4 of 7 events!
     Might Mike Fox attended 3 of 7 events!
     Dennis Hatziner cooked at 3 of 7 events!
Amount of Burgers consumed personally: 30
Amount of off-menu Burgers delivered by delivery.com: 200+
Total Guests: 574
and for the biggest and most important number of them all, drum roll please …
Number of Burgers served:

2356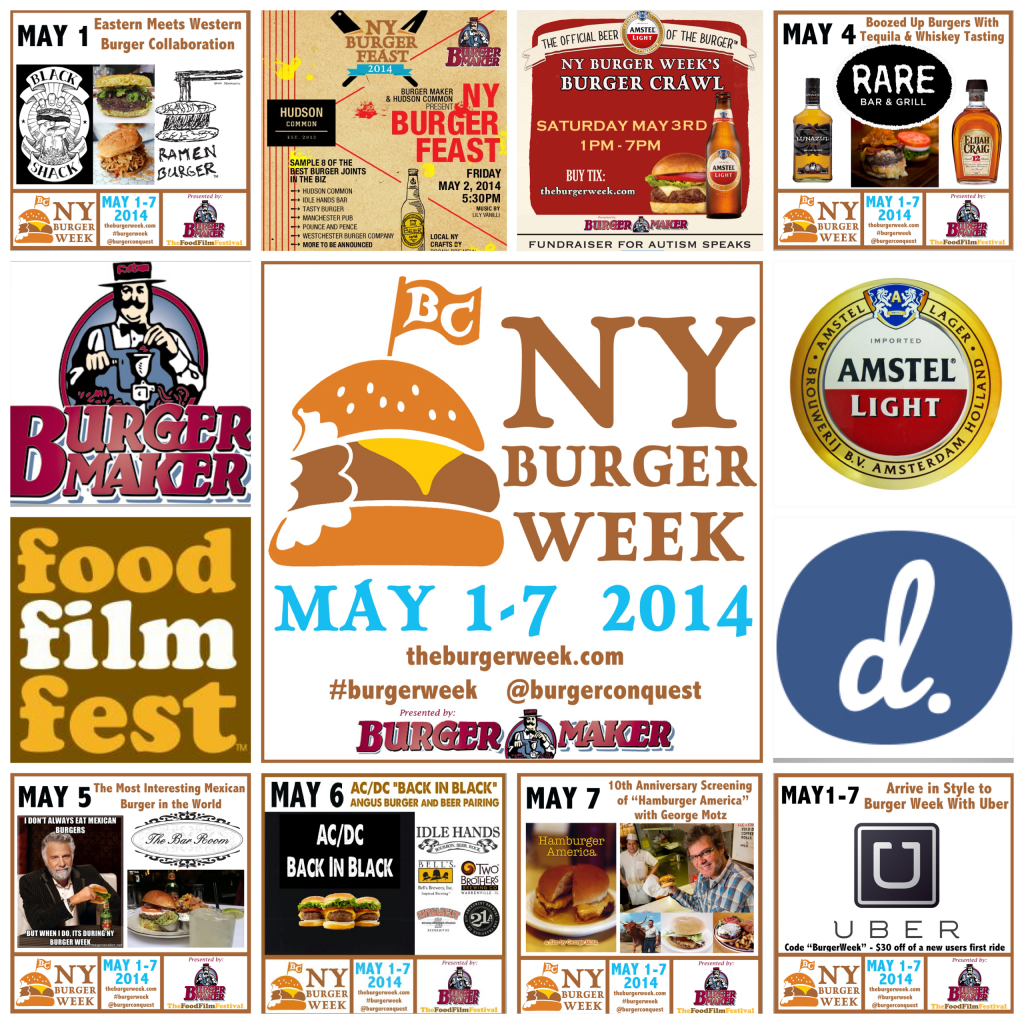 THE EVENTS
EASTERN MEETS WESTERN BURGER COLLABORATION
Featuring Black Shack & The Ramen Burger

THE NY BURGER FEAST
At Hudson Common

AMSTEL LIGHT, THE OFFICIAL BEER OF THE BURGER, PRESENTS
THE 3RD ANNUAL NY BURGER CRAWL

BOOZED UP BURGERS WITH A WHISKEY AND TEQUILA TASTING
At Rare Bar & Grill
Brought to you by Gotham Burger Social Club

THE MOST INTERESTING MEXICAN BURGER IN THE WORLD
At The Bar Room
Brought to you by Burger Weekly

AC/DC BACK IN BLACK ANGUS BURGER & BEER PAIRING DINNER
At Idle Hands Bar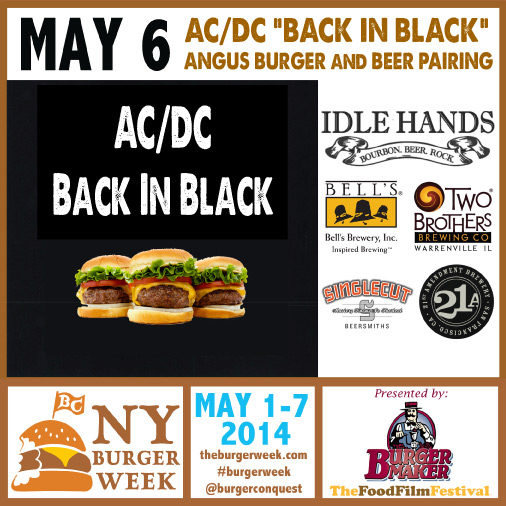 10TH ANNIVERSARY SCREENING OF HAMBURGER AMERICA
HOSTED BY GEORGE MOTZ
at Tribeca Cinemas

NY Burger Week Delivered
– Off Menu Burgers All Week Only on delivery.com –


Sign up for the Burger Week email newsletter, and follow @BurgerConquest on Twitter for more details & future event announcements.
About NY Burger Week


NY Burger Week is an annual delicious celebration of all things Burger in New York. It is an extension of the burger blog, BurgerConquest.com written by sales marketing strategist, David "Rev" Ciancio. Rev has written about more than 600 Burgers, been featured on numerous different TV shows and named an "Expert Burger Taster" by The Learning Channel.
About Burger Maker


Burger Maker was established in 1978 in New York City's meatpacking district by David Schweid, a 2nd generation meat man. The company is now wholly owned and operated by David and his two sons Jamie & Brad in Carlstadt, NJ. Burger Maker specializes in making fresh patties in all shapes, sizes, and blends as well as bulk ground beef. Custom blends include everything from chuck to hanger to short rib to brisket. Burger Maker also makes Grass Fed ground beef and actively participates and adheres to Certified Humane certifications. The company has been awarded with the highest standards of SQF certification in both food safety and food quality. Burger Maker uses a delicate process to create ground beef that has a soft bite that maintains all natural beef flavors.
About The Food Film Festival


The Food Film Festival, created and hosted by Travel Channel's George Motz, is the only festival in the world where guests get to Taste What They See on the Screen. Now in New York City, Chicago and Charleston, SC, The Food Film Festival shows films about food, then serves the food from the films…right in your seat!