To celebrate National Hamburger Month, Burger Conquest, Burger Maker & The Food Film Festival proudly bring you the 3rd Annual NY Burger Week, May 1-7, 2014.
The Burger Week is a 7-day celebration of trendsetting chefs and unique burgers with a series of daily events.
Hashtag = #BurgerWeek
Tweet: @BurgerConquest
Thursday, May 1, 2014
EASTERN MEETS WESTERN BURGER COLLABORATION
Featuring Black Shack & The Ramen Burger
– $45 for Off-Menu Burgers, Sides and a Beer Milkshake –
Thursday, May 1, 2014
The Black Shack
320 Lexington Ave, NYC
6:30 & 8:00 pm seatings
Price: $45 for 2 people
Ticket link: http://theburgerweek.com/tickets/
Includes:
1 off-menu Black Shack style Burger designed by Cheff Keizo Shimamoto
1 off-menu Ramen Burger style Burger designed by Chef Jeff Maslanka
1 Boozy Milk Shake
1 Asian-American style side item
**All items split between 2 people**
The Burger Week in New York kicks off May 1 at The Black Shack (320 Lexington Ave) with a unique burger collaboration. Chef Jeffrey Maslanka brings off-menu burgers to the Burger Week, this time with Ramen Burger creator Keizo Shimamoto. Chef Jeff was the creative force behind the 2013 NY Burger Week off-menu Burger brunch at 67 Burger. For 2014, he and Shimamoto will work together to re-imagine each other's Burger. Keizo has re-designed Jeff's Western Burger – and it will be served along with Jeff's take on the Ramen Burger. The dinner, limited to only 40 seats, will also feature a Black Shack off-menu Asian-themed side and a beer milk shake.
MENU:
Appetizer – Sloppy Joe-za Goyza
Jeff's – Ramen Spaghetti and Meatball Burger with Sunday Gravy and Mozzarella.
Keizo's – Western Meats Eastern Black Shack Burger with Burger Maker's Certified Angus Beef Fresh Steakburger with a Slice of Pork Belly, Bamboo Shoots, Wood Ear Mushrooms, Fried Ramen Noodles Powdered with Miso Green Onions and Ramen Burger BBQ Sauce.
Lemon Ginger Wit Beer Milkshake
Ticket link: http://theburgerweek.com/tickets/
**Must be seated 15 minutes before event

Friday, May 2, 2014
THE NY BURGER FEAST
At Hudson Common
– $65 for tickets to a Burger Party Where You'll Sample the Best Burgers Around –

May 2, 2014
Hudson Common
356 West 58th Street, NYC
6:30 – 9:30 pm
Join Burger Maker and the Hudson Hotel as they present THE NY BURGER FEAST.
TWO TICKET OPTIONS
General admission
Price = $65
Admission to event from 6:30 – 9:30 pm
Sample from several Burger restaurants
3 All-NY Craft Beer Tasting Pours
VIP
Price = $75
1 hour early access 5:30 – 6:30 pm (limited tickets)
Admission to event 5:30 – 9:30 pm
Sample from 8 Burger restaurants
5 All-NY Craft Beer Tasting Pours
What would The NY Burger Week be without a big burger party? Right? We hear you and we agree and that's why we created THE NY BURGER FEAST. Join us on Friday, May 2nd for an exclusive Burger party at Hudson Common in the Hudson hotel for a burger and beer feast of epic proportions. We've invited some of the best Burger spots around to come and serve you some of the tastiest burgers in the biz. Each restaurant will be showing you their best by offering a signature Burger from their menu using a selection of Burger Maker's high-quality, fresh ground beef. You'll go from table to table as you walk around enjoying delicious burgers. Wash it all down with a selection of local craft beers on tap at Hudson Common.
FEATURED RESTAURANTS & BURGER MENU
LOCAL NY CRAFT BREWS FROM
 – The Bronx Brewery
*This is a 21 and over event

Saturday, May 3, 2014
AMSTEL LIGHT, THE OFFICIAL BEER OF THE BURGER, PRESENTS
THE 3RD ANNUAL NY BURGER CRAWL
– $70 for Beers at Every Bar and $3 Burger Specials –
*Fundraiser for Autism Speaks*
May 3, 2014
East Village, Murray Hill & Kips Bay Neighborhoods, NYC
12:30 – 3:00 pm – Check In
1:00 – 7:00 pm – Burger Crawl
Price: $70.00

Includes:
Entrance into the event
One (1) 8 oz Amstel Light at all locations
Access to $3 Burger specials at each location
Charity donation to Autism Speaks
Entry into contest to win Cheeseburger Wrapping Paper from Gift Couture
It's been a long cold winter here in the Big Apple but it's finally getting warm and it's time to get out and do something fun! Kick Spring into high gear with the 3rd annual NY Burger Crawl. At every single stop, you'll enjoy an 8oz Beer from Amstel Light, the official beer of the Burger, along with $3 specialty mouth watering Burgers. The event begins at 1pm and goes until 7pm. For those six hours, how many burgers can you handle? Call your friends, get a group together, and enjoy some of the best burgers in NYC.
A portion of the proceeds to the Amstel Light NY Burger Crawl will be donated to Autism Speaks. At Autism Speaks, their goal is to change the future for all who struggle with autism spectrum disorders. They are dedicated to funding global biomedical research into the causes, prevention, treatments and a possible cure for autism. They strive to raise public awareness about autism and its effects on individuals, families, and society: and they work to bring hope to all who deal with the hardships of this disorder. The organization is committed to raising the funds necessary to support these goals. Autism Speaks aims to bring the autism community together as one strong voice to urge the government and private sector to listen to our concerns and take action to address this urgent global health crisis. It is their firm belief that, working together, we will find the missing pieces of the puzzle. Click here to donate to Autism Speaks.
A Burger Crawl is a unique way to spend the day visiting great bars with close friends and family. Enjoy some of the best burgers that Manhattan has to offer at an incredibly affordable price along with great beer. This package will allow you to take advantage beer deals, burger specials and a full map of the best bars to visit during May 3rd for the annual NY Burger Crawl. While the weather warms up, what can possibly be better than a cold beer and large juicy burger? Enjoy all of this at some of the top rated burger joints in town. Some of the best bars have enlisted to participate in this year's Burger Crawl.
By purchasing at ticket to the Amstel Light 3rd Annual NY Burger Crawl you are entered into a chance to win Cheeseburger Wrapping Paper from Gift Couture. Winners will be chosen the week after the event and will be notified by email.
While out on the crawl, you'll also get a chance to check out the new Burger rating app from Burgerator. It allows you to share photos and review of Burgers with your friends.
When you check in at Idle Hands Bar, you'll get a chance to meet the crew from Burger Lift. Their new device, which just had a successful kickstarter campaign, helps you maintain Bun integrity by giving you a stand to place your Burger on top of. That way when all the juicy goodness falls to the plate, it won't get sucked up and ruin your bun.
PARTICIPATING BARS & RESTAURANTS:
Use code "BurgerMe" to get 60% off tickets – today only
Check in runs from 12:30 – 3:00 pm & the crawl goes from 1:00 – 7:00 pm.
Must be 21 years or older with valid ID

Sunday, May 4, 2014
BOOZED UP BURGERS WITH A WHISKEY AND TEQUILA TASTING
At Rare Bar & Grill
– $23 for 3 Drunken Mini Burgers with Lunazul Tequila and Elijah Craig 12 Year Tasting –
Brought to you by Gotham Burger Social Club

Sunday, May 4, 2014
Rare Bar & Grill
303 Lexington Ave, NYC
1:00 and 2:30 pm seatings
Price: $23
Ticket link: http://theburgerweek.com/tickets/
Includes:
The Rare Drunken Trio of Mini Burgers:

Jameson Black Barrel Burger

– Fresh ground ribeye, flambéed in Jameson Black Barrel select reserve atop its aged whiskey slaw & smothered with white Irish cheddar.

T-Bone Burger

– A blend of filet and strip, flambeed in tequila, wrapped in apple smoked bacon, topped with cheddar and crispy onions.

M&M Burger

– Our classic flambéed in whiskey topped with caramelized shallots, cheddar cheese & smoked apple bacon.
Expert lead small batch tasting featuring Lunazul Tequila & Elijah Craig 12 year Bourbon
One (1) side of Sweet Potato Chips with Honey Drizzle
The Burger Week began many years ago at a boozy Burger brunch and for 2014 the tradition continues! Rare Bar & Grill (303 Lexington Ave) will host Boozed Up Burgers With a Tequila & Whiskey Tasting Brunch on Sunday, May 4th for the 3rd Annual NY Burger Week. Proprietor and Burger aficionado, Douglas Boxer, has put together a Drunken Trio of Burgers, each of which is flambeed in a different liquor. You'll taste all three as well as Rare Bar & Grill's delicious Sweet Potato Chips topped with a Honey Drizzle.
Along with the Drunken Trio Burgers, you'll enjoy an expertly lead tasting of small batch Tequila and Bourbon. Returning to the Burger Week, liquor expert Jessica Partington from Heaven Hill will lead a tasting of Lunazul's Blanco and Anejo Tequilas along with Elijah Craig 12 year Bourbon.
Ticket link: http://theburgerweek.com/tickets/
**Must be seated 15 minutes before event

Monday, May 5, 2014
THE MOST INTERESTING MEXICAN BURGER IN THE WORLD
At The Bar Room
– $45 for an Off-Menu Cinco De Mayo Burger Feast With Paired Cocktails –
Brought to you by Burger Weekly

Monday, May 5, 2014
The Bar Room
117 East 60th St, NYC
6:00 and 7:30 pm seatings
Price: $49
Ticket link: http://theburgerweek.com/tickets/
Includes:
1 Welcome Tequila Cocktail
1 Mexican style appetizer
1 Dos Equis Beer Cocktail
1 Off-menu Mexican Style Burger
1 Side of Nachos
1 Mexican style dessert
To celebrate Cinco De Mayo, The Burger Week has teamed up with The Bar Room (117 E. 60th St) for a Mexican-themed Burger feast. On May 5, you'll be treated to a special pre-fixe dinner designed by The Bar Room Chef Kenny Brand. The event includes a 5-course Mexican themed dinner with 3 Dishes and 2 Cocktails, including a Beer Cocktail made with Dos Equis. The star of the show will be a Mexican-spiced Burger Patty topped with Aged Cheddar, Grilled Tomato, Fresh-made Pico de Gallo and a side of Nachos (replacing the standard French Fries). The Burger will be made with Burger Maker's fresh "Certified Angus Beef Steakburger" which includes only fresh Certified Angus Beef trimming that are upper two-thirds USDA Choice.
MENU:
Jalapeño Poppers from scratch with a Smoked Pepper Dipping Sauce, stuffed with Cream Cheese, Bacon and Onion.
Paired with 1 "Ransom Buck" which consists of Tequila, Habanero Syrup, White Pepper and Ginger Beer.
Mexican themed Burger with a Spiced Patty with Aged Cheddar, Grilled Onion, Grilled Tomato, Fresh Pico de Gallo.
Paired with 1 Beer Cocktail featuring Dos Equis served in a pint glass over ice with Fresh Lemon Juice, St. Germain and Tequila with a Lemon Twist
Side of house made Nachos (instead of Fries)
Strawberry-Lime-Mescal Sorbet for Dessert.
Ticket link: http://theburgerweek.com/tickets/
**Must be seated 15 minutes before event
Tuesday, May 6, 2014
AC/DC BACK IN BLACK ANGUS BURGER & BEER PAIRING DINNER
At Idle Hands Bar
– $30 for 3 Mini Burgers, Tots & 5 Beers Paired with Back In Black –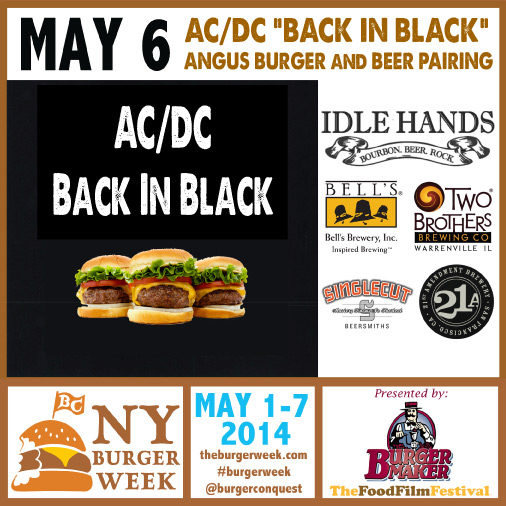 Tuesday, May 6, 2014
Idle Hands Bar
25 Avenue B, NYC
7:00 and 8:30 pm seatings
Price: $30
Ticket link: http://theburgerweek.com/tickets/
Includes:
3 off-menu AC/DC themed mini burgers
1 order of tater tots
5 tastes of beer from breweries
1 shot of whiskey
Paired to all 10 tracks from Back In Black by AC/DC
The 2014 Burger Week in NY returns to Idle Hands Bar (25 Avenue B) on May 6th with another installment of their rock 'n' roll burger and beer pairing dinners. The event is called the "AC/DC Back In Black Angus Burger and Beer Pairing." The menu will feature Burgers and beers "expertly paired" with each track on AC/DC's Back in Black album by The Burger Week founder, Rev Ciancio. The album, originally released in 1980, has gone on to become the 4th highest selling album of all time.
On the anniversary of its recording in New York at Electric Lady Studios, attendees will enjoy a selection of off-menu mini-burgers created by Chef Dennis Hatzinger, each themed with a different song on the album. All Burgers will be made using Burger Maker's Fresh Certified Angus Beef USDA Prime. FYI – Less than 1% of beef is considered CAB® USDA Prime worthy, so get ready for the good stuff. Burgers will be served with a series of craft beers from Bell's Brewery, Two Brothers, 21st Amendment and Singlecut Beersmiths. The dinner will also include an order of tater tots & a shot of whiskey.
BURGER MENU:
Honey Glazed Burger, Crispy Prosciutto & Aged White Cheddar
Blackened Burger, Fried Shallots, Bacon & Provolone
Goat cheese & Raspberry Compote
FEATURED BEERS:
Bell's – Black Note
Bell's – Two Hearted
21st Amendment – Back in Black
Two Brothers – Dog Days
Singlecut – Bon TNTPA
Pairings TBA
Ticket link: http://theburgerweek.com/tickets/
**Must be seated 15 minutes before event
Wednesday, May 7, 2014
10TH ANNIVERSARY SCREENING OF HAMBURGER AMERICA
HOSTED BY GEORGE MOTZ
at Tribeca Cinemas
– $45 to Watch the Film While You Taste the Burgers You See on the Screen –
May 7, 2014
Tribeca Cinemas
54 Varick St, NYC
6:30 pm
Price: $45
Ticket link: http://theburgerweek.com/tickets/
Includes:
Pre-party
Screening of Hamburger America, hosted by George Motz
Taste 3 Burgers featured in the film
Q&A with with George
After party
10 years ago, George Motz released the film Hamburger America, which spotlights 8 different American Burger joints with a focus on the story behind their burgers. That film went on to become the Hamburger America book, that in it's 2nd printing offers a "state by state guide to 150 great burger joints." No American Burger fan should be without the book, seriously.
The film had it's debut screening 10 years ago at the Museum of Contemporary Art in Chicago. Then it shown again 2 years later at the Water Taxi Beach in Long Island City while Burgers featured in the film were fed to audience members during the viewing. That unique magic moment of tasting what was on the screen birthed The Food Film Festival in NYC which now also happens in Chicago and Charleston, SC. The book also eventually lead to George's position as the producer and host of Travel Channel's Burger Land.
On May 7, 2014 at Tribeca Cinemas (54 Varick St), with the help of The Food Film Festival, we will recreate that evening with a screening of the film while serving the exact same menu. The event will be hosted by George including a post film Q&A. The event will also feature the Manhattan debut of Andrew Zurica's new Burger truck, "Hard Times Sundaes." Andrew owned and operated the Luncheonette in Mill Basin, Brooklyn where he created a highly acclaimed Burger. Unfortunately the restaurant closed due to insurmountable damages from Hurricane Sandy. Andrew returns with a brand new Burger truck where soon you'll be able to get his delicious Burgers again. Joining him as co-captain in the kitchen is Burger Week veteran Chef Jeffrey Maslanka from 67 Burger & The Black Shack.
Together the 2 of them will work hand in hand to recreate the Butter Burger from Solly's Grille, the Green Chile Cheeseburger from the Bobcat Bite and Guberburger from the Wheel Inn. George as well as the Chefs and members of the Food Film Fest will be on hand to hang out and chat Burgers during the after party.
This is one Burger event you do not want to miss!!
BURGER MENU:
The Butter Burger from Solly's Grille in Milwaukee, WI
The Green Chile Cheeseburger from The Bobcat Bite in Santa Fe, NM
The Guberburger from The Wheel Inn in Sedalia, MO
Ticket link: http://theburgerweek.com/tickets/
**Must be seated 15 minutes before screening
** For more info & tickets to other NY Burger Week Events please visit the NY Burger Week website.